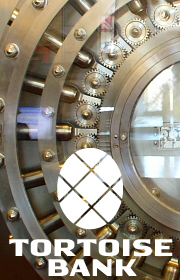 Tortoise Bank is the oldest, largest and most respected bank in the Tortoise Islands. From its humble beginnings at the end of the 19th century during the Great Gold Rush, the bank evolved over the years into the international financial colossus it is known as today. And with more than 800 branches in over 150 countries around the world, the bank is building an increasingly important and enviable reputation as one of the leading financial players in the world today.
From Los Midas to Shanghai, from London to New York, from Mumbai to Zurich, you'll find our expert teams of financial consultants and advisers working around the clock on investments and deals for you — our valued partners and customers. We know the markets. And with exclusive advice from the WCD and a Triple AAA Credit Rating from the MIFSS you can be assured that your funds and investments are protected and advanced by the best financial strategems available in the world today.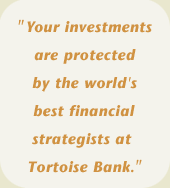 Bank Accounts
Savings
Credit Cards
Loans
Planning
International
Tortoise Bank is proud to be your partner with our award-winning TortoiseSaver™ program (Bank Saver programs are only currently available to Tortoise Islands' residents). This program has helped tens of thousands of families across Great Tortoise Island to achieve their goals.
Whether it's planning your next vacation, or purchasing a new boat for your next trip to Galapagos, Tortoise Bank is your one stop partner to manage your home finances.
TortoiseSaver™ is easy, with tracking tools, flexible programs and even automated transfers to make saving as easy as coconut pie. Open a Saver Account today.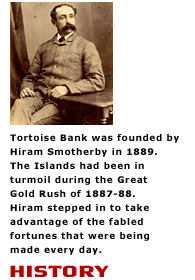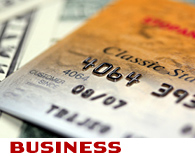 Company Accounts
Cards
Merchant Services
Business Loans
Finance
Global
Tortoise Bank offers a range of custom solutions for businesses of any size. It doesn't matter if it is regular banking or finance you are seeking, the bank is always your faithful partner in growing your important business. Phone our head office toll-free in Los Midas today for a free consultancy. You can rely on Tortoise Bank.
The bank is also expert at advising and managing the whole gamut of global investment and foreign exchange transactions.
And, our renowned custom business products are backed by a century of experience and a reputation second to none right across the Tortoise Islands and around the world.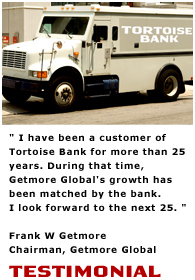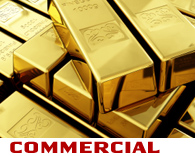 Markets
Capital
Trade
Global Finance
International
Foreign Exchange
Tortoise Bank offers a comprehensive array of commercial services, from merchant services, to international financing, to insurance programs. Your personal consultant is standing by right now for your call (Tortoise Islands residents only).
Simply call into your nearest branch of the Tortoise Bank, there's one very near to you. Our standards are as high as they can be. This is what you would expect, since our expert team is backed by the global financial expertise of the WCD.
We are ready and waiting to take your business to the next stage of prosperity and international success. Call in to Tortoise Bank HQ in Los Midas without delay!